Dual Socket Charger, Hawkins Lane
Working in conjunction with Maplevale Developments Limited, RJK Construction, and East Staffordshire Council, econetiQ have funded, installed and will maintain a dual socket 47kW Autel DC Maxicharger at Hawkins Lane, in Burton upon Trent, Staffordshire.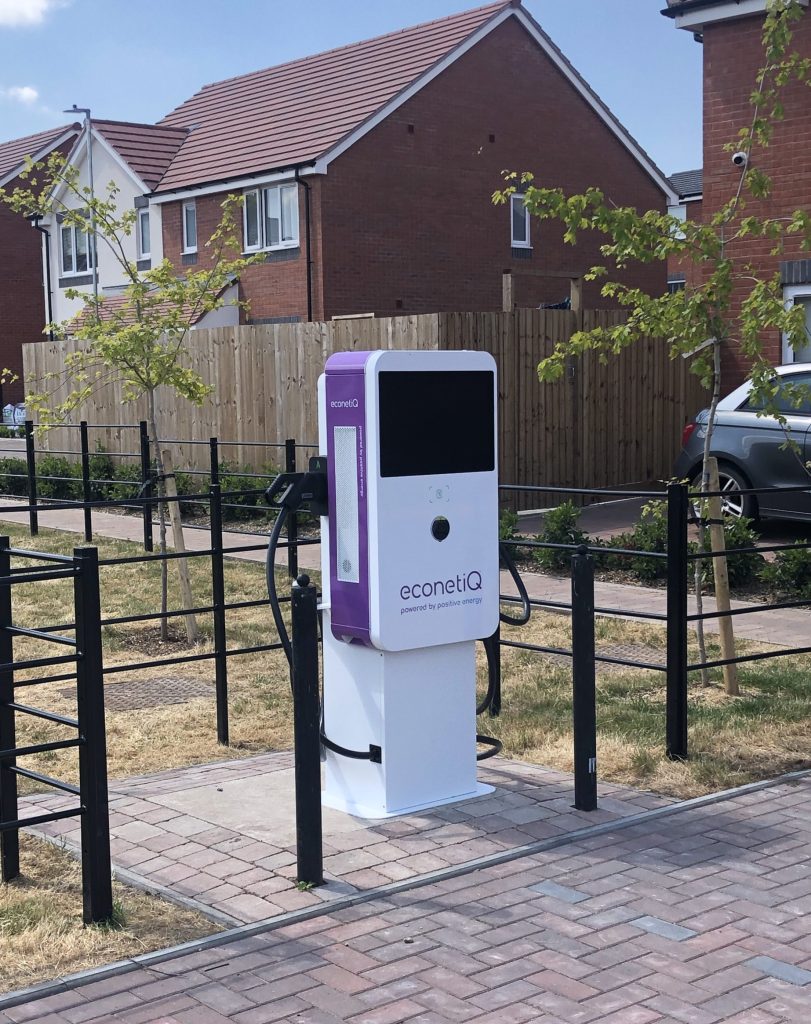 Location
Burton upon Trent, Staffordshire
When planning The Sidlings development in Buxton, Maplevale Developments Limited were keen to make provisions for the increase of ownership of electric vehicles. The organisation wished to make allowance for rapid chargers for residents and visitors to the area; also interested in fully funded options. Working in conjunction with East Staffordshire Council, RJK Construction and Maplevale Developments econetiQ worked to deliver just this.
Hawkins Lane boasts a dual 47kW Autel DC Maxicharger with a charging capacity of up to 47kW on one side if one car is connected; and up to 23kW per side if two cars are charging, thanks to load balancing features. You can make payment on this charger by following the steps of 'tap, charge, and go'. Payment methods accepted are Mobile Credit Payment and payment cards that use the Visa network. You can scan a QR code following your charge to download your receipt. As per The Public Chargepoint regulations 2023, issued by gov.uk, all new public charge points with a power of 8kW and above must have contactless payment accessible. econetiQ is pleased that this site complies with this.
The charger is located in Burton upon Trent just off the A38 and A5121, providing a high volume of car flow; a superb spot for a public charger. You can find the charging hub on Zapmap, and its specific location can be found on What3Words here. Further, the outer skin of the charger is branded with the econetiQ logo and colours, increasing visibility of the unit for approaching EVs.
Burton upon Trent is a market town which is known as the capital in brewing, having produced one in four pints of beer sold in Britain at one time. The town centre is just over 15 minutes walk away from the electric charger, where you will find restaurants, shops, supermarkets and Burton-on-Trent railway station. You can therefore utilise your time running errands whilst your car charges.
Working with econetiQ to deliver a dual electric car charger at The Sidings has been an insightful and positive learning experience. We are pleased that local residents are able to benefit from the charging offered, and will be keen for future opportunities to work with econetiQ.
Another project closer to net zero
Our strengths at econetiQ lie in working with multiple parties to deliver a high-quality electric vehicle charging solution. We map utilisation, calculate funding opportunities, and design, install and maintain electric vehicle charger sites. If you are a landowner who would like to understand if you are eligible for a fully funded charging solution, please contact us here.
Read about our commitment to the 100 Billion Trees Project here.