One stormy Sunday on September 10th, we at econetiQ embarked on a beach clean with Plastic Free North Devon. Despite challenging weather conditions our team, their families, and enthusiastic volunteers stood united for a worthy cause, a force of 50, armed with litter pickers and unwavering determination.
When asked if he was going to enjoy the day, in serious tones William, age 7 said,
"Well, we need to pick up all the plastic to stop climate change". We couldn't have put it better ourselves! This just about sums up the progressive attitudes of those who attended the day.
2 hours were spent cleaning, contributing to a collection of 170kg of litter, hauled off the beach with three trucks filled to the brim. Guess what topped the trash charts? Clunky fishing gear, snack wrappers, sewage oddities, and loads of those sneaky microplastics. While the global plastic issue looms large, every effort counts. 
Plastic Free North Devon, an environmental charity, is on a mission to safeguard our environment through community-led action. Beyond clean-up events, they inspire individuals to reduce single-use plastic consumption and reconnect with nature. From October 1st there will be a ban on the supply of certain single-use plastics in England and Wales. Efforts in advocacy have clearly paid off for Plastic Free North Devon.
Greenpeace estimates that 12.7 million tonnes of plastic enter oceans annually, fatally impacting surrounding wildlife. Every piece picked up from a beach makes a difference, and you can do your part with a #2minutebeachclean.
Special thanks to Plastic Free North Devon for organizing and Swansea Environment Centre for supporting our youngest volunteers through the provision of litter pickers and litter picking hoops.
Following the torrents of rain, the sun finally emerged, and the team were able to enjoy the cleaner beach together. At econetiQ, we are dedicated to driving positive change and will continue to engage in environmental initiatives.
It was inspiring to join PFND and witness the impact of a motivated group. We're committed to supporting such initiatives and making a positive environmental impact.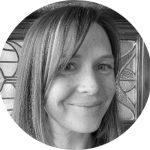 Author, Tanya Szabo
Marketing
Tanya is an experienced content writer and marketing strategist, focused on consumer behaviour, user insights and electric vehicle technology development.